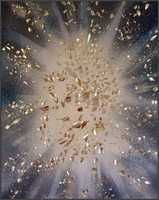 'Lynne has always enjoyed creating new things....in fact it is hard to stop her! Sand sculptures on the beach, woven grass and twig sculptures when out for a walk, candle wax sculptures in the resturant! The fact is she is always making something!' 'It is hard to say what medium Lynne prefers...its probably pastel..or Acrylic..or then again it could be watercolour. She uses all of them...and clay, wire and wood!'


In 2003 Lynne left the classroom to become a full-time artist She now runs classes for adults, short courses and art days at her home studio and leads workshops for various groups.

Lynne has been the artist for Spring Harvest ( a large Christian gathering that takes over the Butlin's sites in Minehead, Skegness and Harrowgate over Easter) . This, and her work in her home church, Andover Baptist in Hampshire, are probably what she has enjoyed the most over the last couple of years. She is regularly asked to lead workshops for art groups, churches and clubs and has a variety of commissions in hand at the moment.