During Easter '07 I painted during a worship time at Spring Harvest, a Christian holiday attended by thousands each year. It was one of the most exciting and satisfying things I have ever done! I felt as though I had at last started to do what God had planned for me since I picked up my first crayon!
For those of you who haven't yet discovered the real and living God this may seem a bit strange but it was just as though I had been given an amazing gift and had not found out quite what to do with it ... though I could do quite creative things with it I knew I was not using it for the purpose it had been intended. The pictures I was drawing when I was singing or talking to the one I believe gave me this gift were very varied and not at all in the style of my usual work. Whats more, I found that they deeply affected other people... God seemed to use the pictures to say something.
Ever since I have had many clear ideas for pictures and have drawn or painted them...sometimes during a service (usually at Andover Baptist Church) or sometimes at home in my studio.
I have been privileged to paint 'live' at many events since and I think this is my favourite way to paint. The pictures are usually pretty big and so I usually use Acrylic paint and decorating brushes!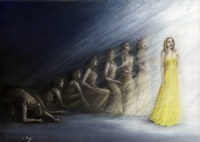 'Redeemed'